Flir Canada T840 and Flir T860 IR Camera
 The FLIR T860 thermal camera is designed to improve visibility and streamline inspections of critical assets, whether you're surveying substation components, manufacturing equipment, or facility electro-mechanical systems. Equipped with a color viewfinder and 180° rotating lens platform, the T860 is comfortable to use and easy to see under bright conditions.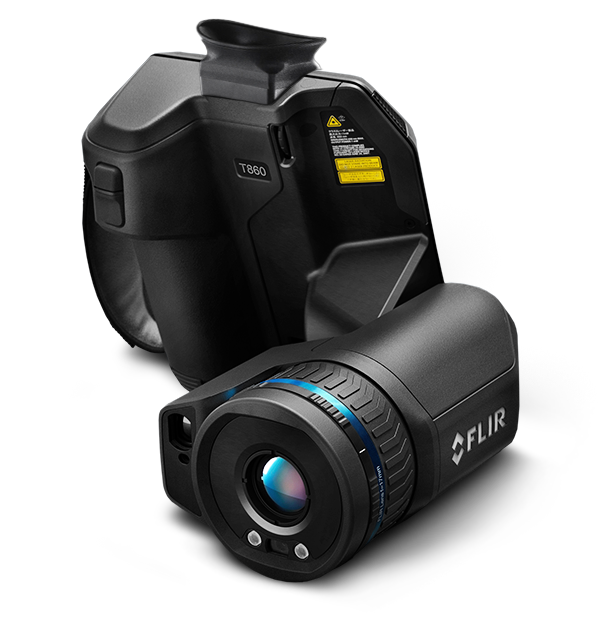 An optional on-board Inspection Route system helps you record temperature data and imagery in a logical sequence for faster troubleshooting and repair. Avoid costly power outages and plant shutdowns through regular predictive maintenance with the T860.
Packed with smart tools for new & experienced users
IMPROVE WORKFLOW EFFICIENCIES
Develop inspection routes in FLIR Thermal Studio Pro and upload to a T860 with the Inspection Routing module (optional) to streamline surveys and better manage critical data

AVOID COSTLY OUTAGES AND COMPONENT FAILURES

Quickly assess the thermal health of electrical systems, mechanical equipment, and facility-wide systems from any vantage point, in any lighting condition

MAKE CRITICAL DECISIONS QUICKLY

Exceptional measurement accuracy, crisp thermal imagery, and workflow optimizations help you collect and share critical data faster
SPECIFICATIONS
OVERVIEW
Accuracy

±2°C (±3.6°F) or ±2% of reading
IR Resolution

640 × 480 pixels
Laser Pointer

Yes
Screen EST Mode

Yes
Sampling Average in Screen EST Mode

Recommended temperature range: 30 to 45°C (86 to 113°F) in stable room temperature
Accuracy [Drift] in Screen EST Mode

Accuracy (drift): ±0.3°C (±0.5°F)
CONNECTIONS & COMMUNICATIONS
Communication Interfaces

USB 2.0, Bluetooth, Wi-Fi
METERLiNK

Yes
IMAGING & OPTICAL
Color palettes

Iron, Gray, Rainbow, Arctic, Lava, Rainbow HC
Detector Type and Pitch

Uncooled microbolometer, 12 µm
Digital Camera

5 MP, with built-in LED photo/video lamp
Digital Zoom

1-8x continuous
f-number

1.5
Focus

Continuous with laser distance meter (LDM), one-shot LDM, one-shot contrast, manual
Global Positioning System [GPS]

Automatic image tagging
Image Frequency

30 Hz
Image Sketch

From touchscreen, on infrared image only
Lens Identification

Automatic
Minimum Focus Distance

1.0 m
Non-Radiometric IR or Visual Video

H.264 to memory card
MEASUREMENT & ANALYSIS
Area measurement information

Yes; calculates area inside measurement box in m² or ft²
Laser Distance Meter

Yes; dedicated button
Measurement Presets

No measurement, center spot, hot spot, cold spot, User Preset 1, User Preset 2
METER DATA
Display

4", 640 × 480 pixel touchscreen LCD with auto-rotation
POWER
Battery operating time

Approx. 4 hours at 25°C (77°F) ambient temperature and typical use
Battery type

Li-ion battery, charged in camera or on separate charger
STORAGE MEDIA
Image File Format

Standard JPEG with measurement data included
Image Storage Mode

Infrared, visual, MSX®, Picture-in-Picture